"In Conversation" Series (Dutch Caribbean) – September 17, 2020 – 6:00PM EDT
Join MAC in this conversation with Museum leadership as they discuss the impact of COVID-19 on their museums, how their institutions initially adapted to the crisis, engagement strategies used in lockdown, move to reopening, and looking to the future of the sector.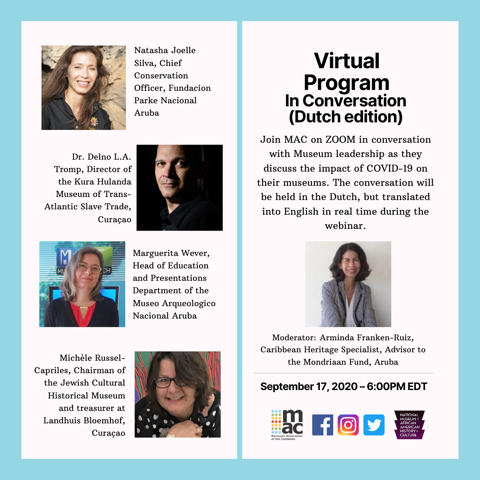 For more information about MAC's Virtual Program, please visit our website.
(French and spanish below)

Dear Chairs and Secretaries,

The COVID-19 pandemic is still seriously affecting cultural institutions around the World. To gather further information and additional data on how the ongoing COVID-19 outbreak is affecting and will affect the cultural sector in the short and long term, we are launching a second global survey. We kindly ask you to fill in and disseminate the survey with your members to help us gather information on the impact of the crisis and on how ICOM can support museums and museum professionals around the world. Thank you in advance for you precious cooperation.
Chers présidents et secrétaires,

La pandémie de COVID-19 continue d'affecter les institutions culturelles dans le monde entier. Afin de recueillir davantage d'informations et de données supplémentaires sur la manière dont l'épidémie actuelle de COVID-19 affecte et affectera le secteur culturel à court et à long terme,

nous lançons une deuxième enquête mondiale. Nous vous demandons de bien vouloir remplir et diffuser l'enquête auprès de vos membres afin de nous aider à recueillir des informations sur l'impact de la crise et sur la manière dont l'ICOM peut soutenir les musées et les professionnels des musées dans le monde entier. Nous vous remercions d'avance pour votre précieuse coopération.
Queridos presidentes y secretarios,,

El brote de COVID-19 sigue afectando seriamente a las instituciones culturales de todo el mundo. Con el fin de reunir más información y datos adicionales sobre la forma en que el actual brote de COVID-19 está afectando y afectará al sector cultural a corto y largo plazo,

estamos lanzando una segunda encuesta mundial. Les rogamos que rellenen y difundan la encuesta entre sus miembros para ayudarnos a recopilar información sobre el impacto de la crisis y sobre la forma en que el ICOM puede apoyar a los museos y a los profesionales de los museos de todo el mundo. Gracias de antemano por su preciosa cooperación.