COVID-19 Call for Artists and Museum Professionals Testimonials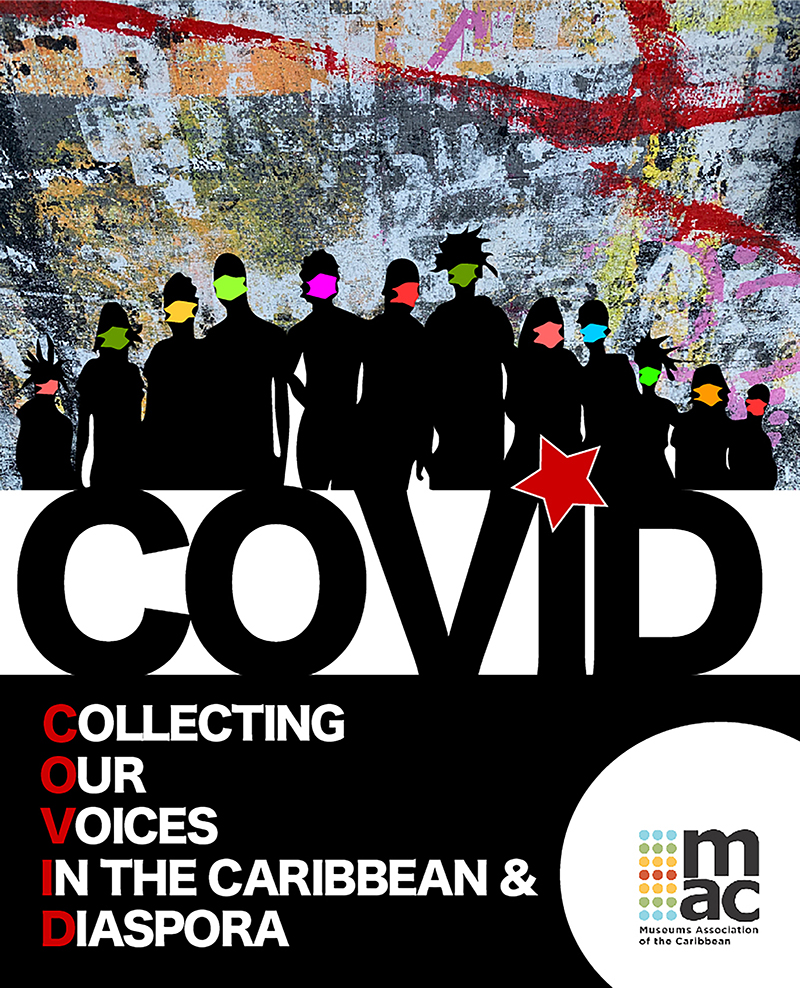 MAC is pleased to announce two new initiatives aimed at showcasing responses by artists and personal testimonials from museum professionals to the current pandemic.


Call for Artists
MAC invites all artists to submit work(s) for consideration in a virtual exhibition that will exist on the MAC website and will be projected at various sites throughout the Caribbean in March 2021. Knowing that artwork can sometimes convey what words cannot, this project aims to illuminate how people in the Caribbean and its Diaspora are living and moving through this crisis through creative expression. The call is open through 30 November 2021. 
Learn more about this project and how to submit work here.


Call for Museum Testimonials

MAC invites museum professionals to share their experiences of the present moment and how the pandemic is continuing to transform our lives as museum and cultural heritage professionals. Help document the impact for the future record and to bolster ongoing and future cases of support for our institutions collectively and individually. Photographs, videos and written testimonials will all be accepted. Learn more about this project and how to submit your story here.
COVID-19 Appel à témoignages d'artistes et de professionnels des musées
L'Association des Musées de la Caraïbe (MAC) est fière d'annoncer deux nouvelles initiatives visant à présenter les réponses des artistes et les témoignages personnels des professionnels des musées face à la pandémie actuelle.


Appel aux artistes
La MAC invite tous les artistes à soumettre des œuvres pour une exposition virtuelle qui se tiendra sur le site Internet de la MAC et qui sera projetée dans différents sites des Caraïbes en mars 2021. Sachant que les œuvres d'art peuvent parfois transmettre ce que les mots ne peuvent pas, ce projet vise à mettre en lumière la façon dont les habitants des Caraïbes et sa diaspora vivent et traversent cette crise en exprimant leur créativité. L'appel est en vigueur jusqu'au 30 novembre 2021.


Pour en savoir plus sur ce projet et sur la façon de soumettre des œuvres, cliquez ici.


Appel à témoignages pour les musées
La MAC invite les professionnels des musées à partager leurs expériences du moment présent et à expliquer comment la pandémie continue de transformer nos vies à titre de professionnels des musées et du patrimoine culturel. Contribuez à documenter l'impact de cette pandémie pour l'avenir et à renforcer les soutiens, collectifs et individuels, actuels et futurs, à nos institutions. Les photos, les vidéos et les témoignages écrits seront tous acceptés. Pour en savoir plus sur ce projet et sur la façon de soumettre votre histoire, cliquez ici.

COVID-19 convocatoria de testimonios de artistas y profesionales de museos
MAC se enorgullece en anunciar dos nuevas iniciativas destinadas a exhibir las respuestas de los artistas y los testimonios personales de los profesionales de los museos a la pandemia actual.



Convocatoria para los artistas

El MAC invita a todos los artistas a que presenten su(s) obra(s) para su consideración en una exposición virtual que existirá en el sitio web del MAC y que se proyectará en varios lugares del Caribe en marzo de 2021. Sabiendo que las obras de arte a veces pueden transmitir lo que las palabras no pueden, este proyecto tiene como objetivo ilustrar cómo la gente del Caribe y su diáspora está viviendo y atravesando esta crisis a través de la expresión creativa. La convocatoria está abierta hasta el 30 de noviembre de 2020. 
Conozca más sobre este proyecto y cómo presentar el trabajo aquí.



Convocatoria de testimonios de museos

MAC invita a los profesionales de los museos a compartir sus experiencias del momento actual y de cómo la pandemia sigue transformando nuestras vidas como profesionales de los museos y del patrimonio cultural. Ayúdanos a documentar el impacto para el registro futuro y reforzar los casos actuales y futuros de apoyo a nuestras instituciones de forma colectiva e individual. Se aceptarán fotografías, vídeos y testimonios escritos. Aprende más sobre este proyecto y cómo enviar tu historia aquí.

MAC kondigt met trots twee nieuwe initiatieven aan die reacties van kunstenaars en persoonlijke getuigenissen van museumprofessionals op de huidige pandemie laten zien.



Oproep voor Kunstenaars
MAC nodigt alle kunstenaars uit om werk(en) in te zenden ter overweging voor een virtuele tentoonstelling die op de MAC-website te zien zal zijn en die in maart 2021 op verschillende plaatsen in het Caribisch gebied zal worden geprojecteerd. In de wetenschap dat kunstwerken soms kunnen overbrengen wat woorden niet kunnen, wil dit project illustreren hoe de mensen in het Caribisch gebied en hun diaspora door deze crisis heen leven en bewegen door middel van creatieve expressie. De oproep is open tot 30 november 2021.


Hier leest u meer over dit project en hoe u werk(en) kunt inzenden.



Oproep voor Museumgetuigenissen

MAC nodigt museumprofessionals uit om hun ervaringen van het huidige moment en de manier waarop de pandemie ons leven als museum- en cultureel erfgoedprofessionals blijft transformeren, met elkaar te delen. Help de impact voor de toekomst te documenteren en de lopende en toekomstige gevallen van steun aan onze instellingen collectief en individueel te ondersteunen. Foto's, video's en schriftelijke getuigenissen worden allemaal geaccepteerd.


Hier leest u meer over dit project en hoe u uw verhaal kunt indienen.

Convocatorio pa artista
E Asociacion di Museo di Caribe (MAC) ta invita tur artista pa presenta nan obranan pa consideracion pa un exposicion virtual riba e website di MAC y cu lo wordo proyecta na varios luga den Caribe.

E pandemia di COVID a crea un momento sin precedente den nos tempo; henter mundo a sinti su impacto. Sabiendo cu obra di arte tin ora por transmiti loke palabra no por, e proyecto aki tin como meta pa subraya e forma cu e habitantenan di Caribe y su diaspora ta biba y move a traves di e crisis, mediante expresion creativo.


E deadline pa manda obra ta dia 30 di november di 2020.




Haya sa mas di e proyecto y entrega bo trabao AKI



Testimonio di profesionalnan di museo
Asociacion di Museo di Caribe (MAC) ta invita boso pa comparti boso experiencia na e momento aki. E pandemia a transforma nos bida como profesional di museo y patrimonio cultural. Nos ta testigo di y participante na e cambionan den nos campo di trabou causa pa e cierre di nos luganan, e lockdown y reapertura gradual di tur dos bou condicion totalmente nobo y experimental. Cua tawata nos desafionan? Cua tawata nos temornan? Con nos ta lantando cabes pa enfrenta nos circunstancianan actual?


Ta hopi importante pa nos documenta e interrupcionnan y perturbacionnan den nos profesion y den nos region pa esaki ta graba pa futuro y pa reforsa e formanan actual y di futuro pa sostene nos institucionnan di forma colectivo y individual. MAC lo comparti e historianan compila riba nan website, media social y cu boso pa crea consciencia di e impacto colectivo di Covid-19 riba nos area di trabou.


Haya sa mas di e proyecto y entrega bo testimonio AKI