Digital Engagement in the Time of Coronavirus
Article by Dushanthi Jayawardena, Exhibitions Consultant, Lord Cultural Resources
The coronavirus (COVID-19) pandemic has launched us into a time of uncertainty in a matter of months. In the cultural sector, most major institutions around the world, including museums, galleries, theaters, and libraries, have now closed their physical doors indefinitely to the public. This lockdown, coupled with a looming economic recession, has left the museum sector grappling with extraordinary challenges. But in a positive light, we are also seeing museums rapidly rise to the occasion as they shift to a largely digital engagement platform. Staff are finding creative ways of doing what is in a museum's core interest – to engage audiences in meaningful ways as places of public trust – but this time, remotely.
As long-term members and supporters of the Museums Association of the Caribbean, who have also worked in the region for many years, Lord Cultural Resources has a special interest in seeing museums in the Caribbean continue to stay creative and connected to its communities during this time. To help navigate these unchartered waters, we have put together the following guide of useful digital strategies and tools that museums are adopting, as well as beneficial resources.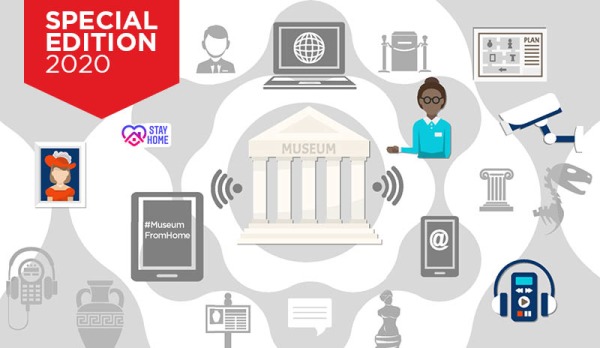 #1 Identify a measured and strategic approach to digital engagement – while we are seeing a deluge of museum content in the digital realm, we are advocating for a strategic approach to how you want to stay connected to your audience. Assess your digital engagement goals in the context of the short-term (during the crisis), and if they will stay the same or change once things are back to normal. Also evaluate your digital assets – who are your content creators and tech-savvy staff; and what museum content do you have at your disposal (or can you retrieve). Finally, be cognizant of the emotional and physical capacity of your staff at this time.
#2 Who is your target audience? – Identify your digital target audience or community, and create personas (target markets) based on demographics and key areas of interest that will help your museum create focused digital content. Also, using social media channels, find out from your community what they would like to see or hear from you while confined to their homes. Understand that these are stressful times, and that people may look to your institution as a place of trust, knowledge and compassion.
#3 Adapt Staff Roles – Be creative in adapting your staff to help drive museum engagement online, and play to their existing strengths. Your educators can brainstorm online-learning tools for adults, youth and children; and your visitor services staff can help answer visitors' questions online. This is the time for collaboration between departments. In this example, see how the National Cowboy Museum's head of security became their most popular social media contributor.
#4 Get on Social Media – Engage your audience on social media platforms such as Twitter, Instagram, Facebook and Snapchat with content that reflects what your museum represents. In this recently celebrated example, the Getty Museum asked its audience on social media to choose a favourite work of art from their collection, recreate it with just three things they have at home, and share their creations online. Also, utilize the new hashtags recently released to share your collections, tours, and educational content with the public, such as #MuseumFromHome and #MuseumMomentofZen. You can also use these platforms to drive audiences toward your website, directing them toward content that digs deeper.
#5 Use existing digital platforms – An effective digital strategy approach is to use widely visited platforms as partners such as YouTube, Google Arts & Culture, and Wikipedia to share your collection, live tours, or even talks with your curators and other experts, and reach a bigger audience. You can also use Google Arts & Culture to upload a virtual tour of your museum.
#6 Document the pandemic for the future – given that we are living in unprecedented times, some museums have started to collect ephemera surrounding COVID-19 such as shop closure signs and grocery signs advocating physical distancing, and photographing empty streets to chronicle this time in history. The V&A actually began Rapid Response Collecting in 2014 to collect relevant objects from major moments of history. The Canadian Museum for Human Rights is collecting and sharing stories of people's particular experiences during the pandemic.
The following are a list of organizations delivering critical and up-to-date information for museums in the time of the pandemic:
♦ ICOM (International Council of Museums)
♦ AAM (American Alliance of Museums)
♦ Lord Cultural Resources – check out our Special Edition of Cultural News in response to the pandemic.
♦ Cuseum – a digital museum engagement platform that is regularly delivering fresh content such as live webinars and blog posts.
♦ MuseumNext – a UK-based organization that connects the museum community as a platform to spark positive change.
♦ Dexibit – a software company that analyzes visitor behavior to drive efficient growth.
♦ MCN on Twitter – organization that promotes digital transformation for the museum sector.
---