Annual General Meeting Travel Fellowship
The Museums Association of the Caribbean Fellowship Program is a professional growth opportunity that provides financial support for new and emerging Caribbean-based museum professionals and students to attend the MAC Annual General Meeting and associated conference. The goal of the fellowship is to promote greater inclusivity of museum professionals working in underrepresented regions and/or marginalized museums and cultural heritage sites.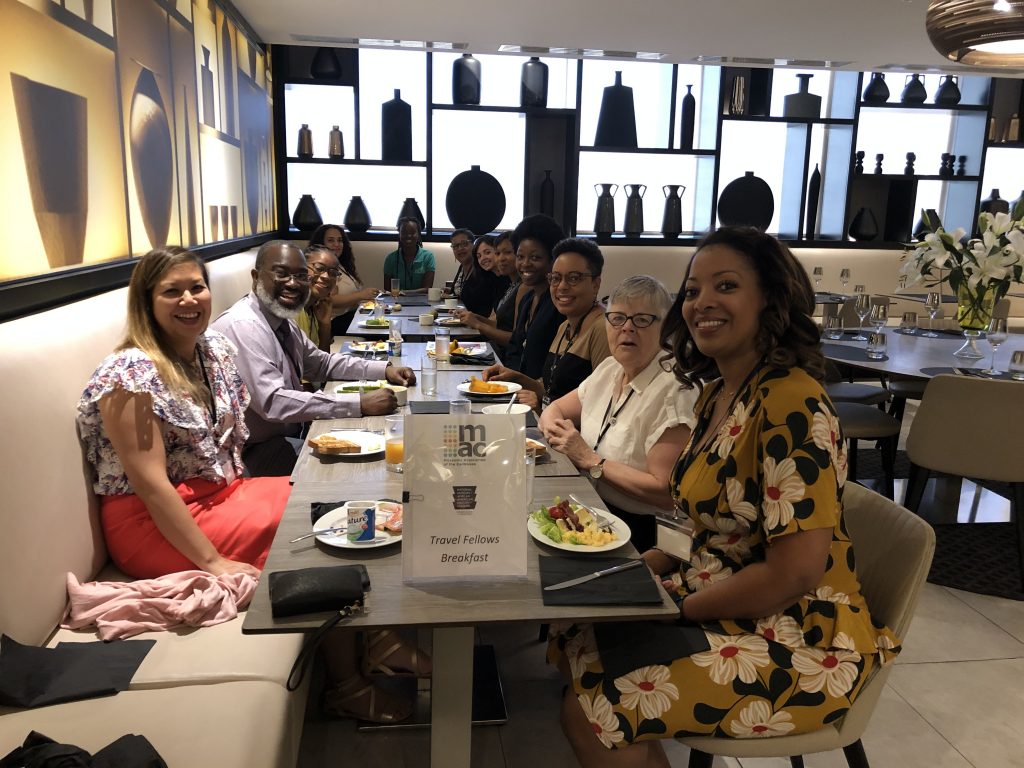 The travel fellowship award includes:
• Complimentary conference registration
• Complimentary hotel accommodations for five nights
• Breakfast with MAC board members
• Reimbursement of one economy airline ticket up to US$700
2019 Travel Fellows breakfast with MAC board members
Eligibility
Travel fellowships applicants must be:
-A resident of the Caribbean
-A student or working professional in the museum, cultural heritage, and arts sector
-A current MAC member (register here)
Though not required, priority will also be given to applicants who have been accepted as presenters to the AAAM conference and who are new and emerging professionals.
MAC's Travel Program is generously supported by the Office of Strategic Partnerships at the National Museum of African American History and Culture.
"I am really grateful to have had the opportunity to take part in the MAC Conference of 2018. Not only did I learn a lot from the experiences of professionals in the field, but I also left with brilliant new ideas."

Sue-Shantely Lourens
2018 Travel Fellow
"I have no words to express my gratitude to MAC for granting me this fellowship which has opened a new world of possibilities and professional development for me. This fellowship has given me a new direction and tools to continue contributing to Walcott House and the cultural heritage sector. The backdrop of the French island of Martinique gave a renewed sense that language is no barrier, our cultural heritage unites us."

Germaine Joseph,
2019 Travel Fellow
"I was interested in attending the conference to learn firsthand how museums in the Caribbean engage their audiences, particularly youth, in critical reflections about Caribbean history and culture. However, this experience has provided an opportunity to learn about this and so much more."

Nyasha Warren,
2019 Travel Fellow
---
2020 Travel Fellowship Application Components
Application materials may be submitted in English or French.
Submission deadline: May 14
Awards notification: June 5
Application Components:
1. A short response essay (250 words maximum) addressing one or both of these questions:
• How will your participation at the conference contribute to your professional development?
• How will you plan to share knowledge from the conference and meeting in your work or at your workplace?
2. A statement explaining your financial need for the fellowship.
3. Your resume or curriculum vitae (2 page limit).
4. A letter of recommendation by a supervisor, colleague, MAC board member, or faculty member articulating how your attendance at the Annual General Meeting will benefit you your institution or the broader museum/cultural heritage field. Only one letter is required.
5. A description of your proposed presentation, if applicable (150 words max).
6. Confirmation of your accepted presentation for the conference, if applicable.
A link to attach these documents and complete the online application form is available through the button below
"I am pleased to say that I have left the conference with a wealth of knowledge about the field and burning new ideas for public engagement in my museum. I am truly inspired to engage the community, in which the National Gallery of Jamaica is situated; to initiate, educate and sustain a great partnership with the community members."

Cristal Clayton Wallace,
2018 Travel Fellow
"A Big Thank You to the Museums Association of the Caribbean, Collectivité Territoriale de Martinique, the Smithsonian National Museum of African American History and Culture and the Association of African American Museums for a wonderful, powerful and enriching week full of presentations, cultural visits, plenary sessions, round tables, workshops and events"

Lourdes Ranero Guzmán,
2019 Travel Fellow