Virtual Program
In August, MAC launched a Virtual Program of online conversations, workshops and webinars to support Caribbean Museums. Through MAC's ongoing partnership with the National Museum of African American History and Culture's Office of Strategic Partnerships, the Perez Art Museum Miami and LORD Cultural Resources, as well as support from our "In Conversation" guest speakers, we will host these workshops and webinars at no cost to participants. We hope you will join us at one or more of these sessions and invite you to listen to the recordings of the ones you missed.
"In Conversation" Series
Join MAC in conversation with Museum leadership from different linguistic regions of the Caribbean (Spanish, English, French, and Dutch) as they discuss the impact of COVID-19 on their museums, how their institutions initially adapted to the crisis, engagement strategies used in lockdown, move to reopening, and looking to the future of the sector. The conversations will be held in the native language but translated into English in real time during the webinar.
COMING UP:
"In Conversation" (Dutch Caribbean) – New date: September 17, 2020 – 6:00PM EDT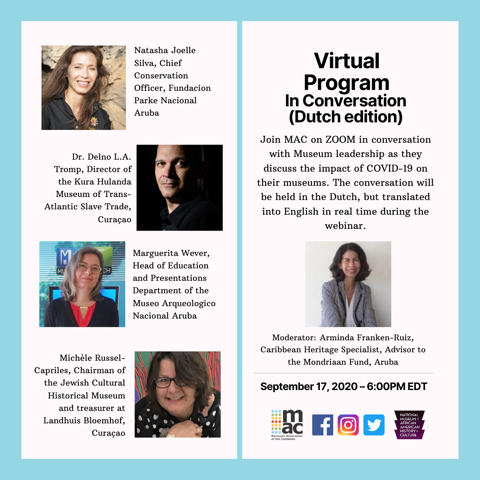 Natasha Joelle Silva, Chief Conservation Officer, Fundacion Parke Nacional Aruba
Dr. Delno L.A. Tromp, Director of the Kura Hulanda Museum of Trans-Atlantic Slave Trade, Curaçao
Marguerita Wever, Head of Education and Presentations Department of the Museo Arqueologico Nacional Aruba
Michèle Russel-Capriles, Chairman of the Jewish Cultural Historical Museum and treasurer at Landhuis Bloemhof, Curaçao
Moderator: Arminda Franken-Ruiz, Caribbean Heritage Specialist, Advisor to the Mondriaan Fund, Aruba
Register here for the Dutch conversation: https://us02web.zoom.us/webinar/register/WN_JjcR8jq6QmKYZ0eqJD73mQ
---
"In Conversation" (English Caribbean) – August 13, 2020 – 6:00PM EDT

Nimah Muwakil-Zakuri, Director, Central Bank Museum of Trinidad & Tobago (Trinidad & Tobago)
Amanda Coulson, Director, National Art Gallery of the Bahamas (Bahamas)
Shani Roper, Curator, University of the West Indies Museum (Jamaica)
Natalie Urquhart, Director, National Gallery of the Cayman Islands (Cayman Islands)
Moderator: Germaine Joseph, Programme Officer, Built Heritage Conservation, St Lucia National Trust (St Lucia)
---
"In Conversation" (Spanish Caribbean) – August 19, 2020 – 6:00 PM EDT

Marianne Ramirez Aponte, Executive Director and Chief Curator of the Museum of Contemporary Art of Puerto Rico and President of the Association of Museums of Puerto Rico (Puerto Rico)
Alexis Salazar, Director of the Museum of Belize and Houses of Culture, National Institute of Culture and History (Belize)
Alex Martínez Suárez, General Coordinator and Museographer of the Fernando Peña Defilló Museum (Dominican Republic)
Amanda Destro, Administrator of the Destro Buttons Museum, President of the Network of Museums and Visitor's Centers of Panama (Panama)
Moderator: Nyasha Warren, The Society of Friends of the West Indian Museum of Panama / MAC Board (Panama)
---
"In Conversation" (French Caribbean)" August 27, 2020 – 6:00PM EDT

Lyne-Rose Beuze, Chief Curator, CTM (Martinique)
Laurella Rinçon, General Director, Mémorial ACTe (Guadeloupe)
Florent Plasse, Head of Collections and Heritage, Fondation Clément (Martinique)
Jean Mathiot, Executive Director, Centre d'Art (Haïti)
Animatrice: Katarina Jacobson, Head of Collections Department, Musée Edgar Clerc/ MAC Board member
---
---
Online Workshops and Webinar Series
Part Two: An Introduction to Distance and E-Learning – Wednesday, September 9, 12:00pm-1:00PM EDT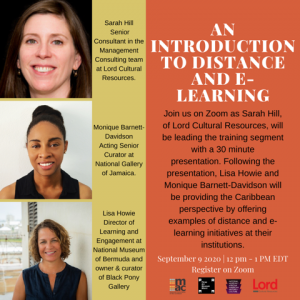 About the Webinar – Education is at the heart of most museum missions and learners of all ages represent a core part of on-site attendance. But what if you're eager to learn and not able to make it to the museum? Whether to overcome challenges of affordability, geography, or pandemic closures, it's time for institutions to consider how digital advancements can help them to expand opportunities for learning and engagement beyond the museum. This webinar will introduce the spectrum of distance and e-learning opportunities and will highlight various digital initiatives that museums have put in place for inspiration, with examples from the Caribbean. After the presentation, participants will have the chance to ask questions and share their own thoughts and ideas.
Recording coming soon
---
Part One: Digital Museums in a New Era – Friday, 07 August 2020, 12:00 – 1:00 PM EDT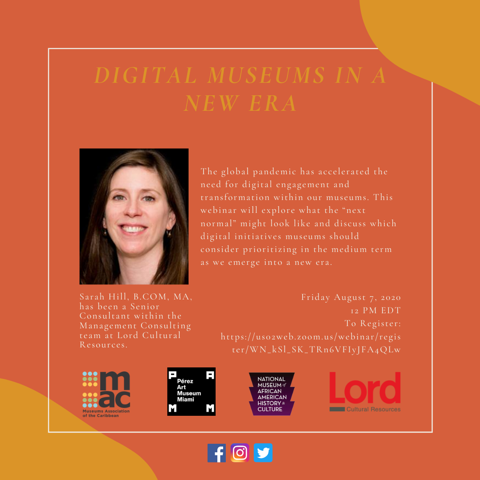 About the webinar – The global pandemic has accelerated the need for digital engagement and transformation within our museums. This webinar will explore what the "next normal" might look like and discuss which digital initiatives museums should consider prioritizing in the medium term as we emerge into a new era. After the presentation, participants will have the chance to ask questions and share their own thoughts and ideas.