Virtual Program
In August, MAC will launch a Virtual Program of online conversations, workshops and webinars to support Caribbean Museums.
Through MAC's ongoing partnership with the National Museum of African American History and Culture's Office of Strategic Partnerships, the Perez Art Museum Miami and LORD Cultural Resources, as well as support from our "In Conversation" guest speakers, we will host these workshops and webinars at no cost to participants.
We hope you will join us at one or more of these sessions and invite you to consider sharing your own innovative museum projects and digital strategies via the MAC social media platforms and newsletter.
"In Conversation" Series
Join MAC in conversation with Museum leadership from different linguistic regions of the Caribbean (Spanish, English, French, and Dutch) as they discuss the impact of COVID-19 on their museums, how their institutions initially adapted to the crisis, engagement strategies used in lockdown, move to reopening, and looking to the future of the sector.

"In Conversation" Series (English Caribbean) – August 13, 2020 – 6:00PM EDT
Nimah Muwakil-Zakuri, Director, Central Bank Museum of Trinidad & Tobago (Trinidad & Tobago)
Amanda Coulson, Director, National Art Gallery of the Bahamas (Bahamas)
Shani Roper, Curator, University of the West Indies Museum (Jamaica)
Natalie Urquhart, Director, National Gallery of the Cayman Islands (Cayman Islands)
Moderator: Germaine Joseph, Programme Officer, Built Heritage Conservation, St Lucia National Trust (St Lucia)
Register here for the English conversation: https://us02web.zoom.us/webinar/register/WN_AXWQT9RiR2-i1UkbOb3sbg
---
"Conversaciones con la Asociación de Museos del Caribe" (Caribe Hispano) – 19 de agosto de 2020 – 6:00 PM EDT
Marianne Ramirez Aponte, Directora Ejecutiva y Curadora en Jefe del Museo de Arte Contemporáneo de Puerto Rico (Puerto Rico)
Alexis Salazar, Director del Museo de Belice y Casas de Cultura, Instituto Nacional de Cultura e Historia (Belice)
Alex Martínez Suárez, Coordinador General y Museógrafo del Museo Fernando Peña Defilló (Republicano Dominicano)
Amanda Destro, Administradora del Museo de Botones Destro, Presidenta de la Red de Museos y Centro de Visitantes de Panamá (Panamá)
Moderador: Nyasha Warren, Society of Friends of the West Indian Museum of Panama/MAC Board (Panama)
Regístrese aquí para el conversatorio en español: https://us02web.zoom.us/webinar/register/WN_Aue5qTBtSkCUknmawXCCwA
---
"Série de conversations avec l'AMC" (Caraïbe francophone)"  27 août 2020 – 18h00 HAE
Lyne-Rose Beuze, Conservatrice en chef au Conseil Régional (Martinique)
Laurella Rinçon, Directrice, Mémorial ACTe (Guadeloupe)
Florent Plasse, Chargé des collections et du patrimoine, Fondation Clément (Martinique)
Jean Mathiot, Directeur exécutif, Centre d'Art (Haïti)
Animatrice: Katarina Jacobson, Responsable du service des collections, Musée Edgar Clerc/ Conseil d'administration de l'AMC
S'inscrire ici pour la conversation en français: https://us02web.zoom.us/webinar/register/WN_c0s38leJSMSnvWYapQrqdg
---
"In Conversation" serie (Dutch Caribbean) – September 03, 2020 – 6:00PM EDT
Panel under development.
Moderator: Arminda Franken-Ruiz, Caribbean Heritage Specialist, Advisor to the Mondriaan Fund
Register here for the Dutch conversation: https://us02web.zoom.us/webinar/register/WN_JjcR8jq6QmKYZ0eqJD73mQ
---
Online Workshops and Webinar Series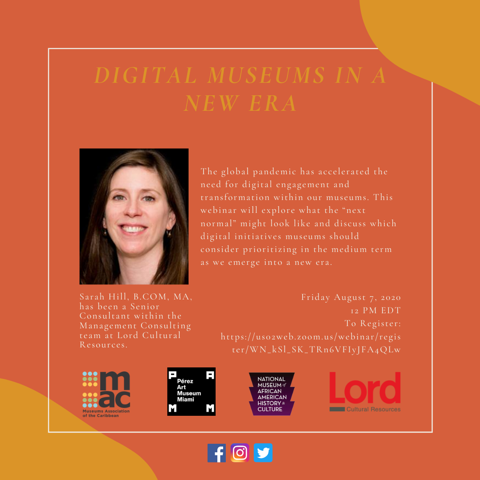 Part One: Digital Museums in a New Era – Friday, 07 August 2020, 12:00 – 1:00 PM EDT
About the webinar – The global pandemic has accelerated the need for digital engagement and transformation within our museums. This webinar will explore what the "next normal" might look like and discuss which digital initiatives museums should consider prioritizing in the medium term as we emerge into a new era. After the presentation, participants will have the chance to ask questions and share their own thoughts and ideas.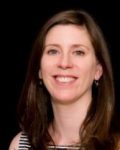 Sarah Hill, B.COM, MA, has been a Senior Consultant within the Management Consulting team at Lord Cultural Resources for over 6 years and is the practice leader specializing in digital transformation for museums and cultural institutions. Her recent project experience includes a digital strategy encompassing eight state-run museums for the New Mexico Department of Cultural Affairs, a think piece on e-learning for the MiSK Heritage Institute, Saudi Arabia, and a series of digital pilot projects to improve digital content development, distribution and discoverability for a partnership of local, provincial and national performing arts and museum organizations across Canada.
Register here for the webinar: https://us02web.zoom.us/webinar/register/WN_kSl_SK_TRn6VFIyJFA4QLw
The webinar will be followed in September by a workshop series, which seeks to provide new training and engagement tools. Topics will include: Best Practice in Health and Safety for Museums and Heritage Sites, and Funding and Advocacy for Museums, an issue of critical importance for short and long term sustainability.
For the full schedule of webinars and workshops as they develop please keep an eye on our blog posts.