HOME
Welcome to our new website! We are still in the process of making it trilingual. We thank you for your patience while it is being updated. If you cannot find the information you are looking for, please contact us.
WELCOME TO THE MUSEUMS ASSOCIATION OF THE CARIBBEAN!
Our mission is to create a network that aids museums and cultural organisations across the Caribbean to share and benefit from their common skills and experiences. We have been supporting museums since 1987: helping to develop standards and best practice; serving as advisors to governments and the public on museum development; exchanging information and ideas; connecting organizations internationally; and conserving and preserving our natural and cultural heritage. Every year, we host a conference and annual general meeting for our members and other delegates within the region. Our most recent conference took place 11-16 November 2019 in Martinique, and was organized together with the Collectivité Territoriale de Martinique.
---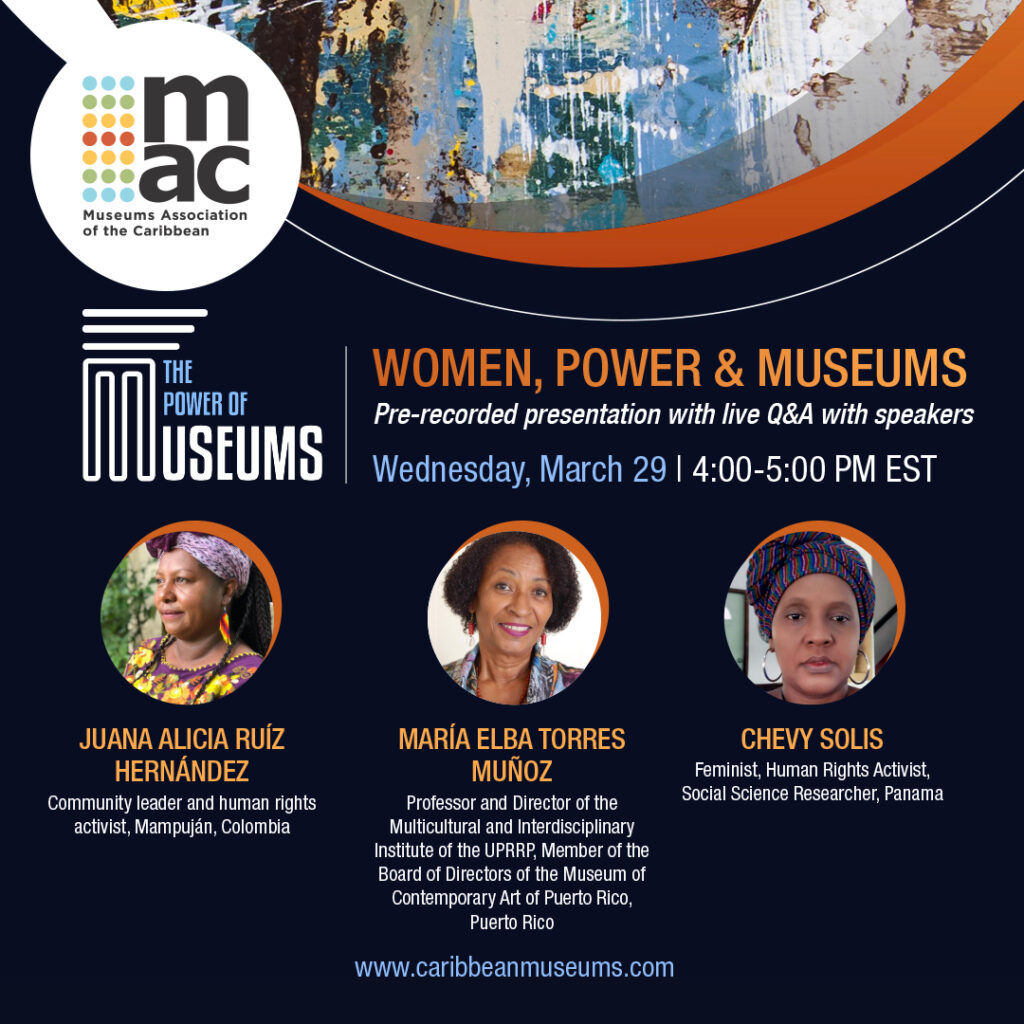 Women, Power and Museums: A Conversation with Community leader and human rights activist, Juana Alicia Ruíz Hernández and Professor and Director of the Multicultural and Interdisciplinary Institute of the UPRRP and Member of the Board of Directors of the Museum of Contemporary Art of Puerto Rico, María Elba Torres Muñoz. Moderated by Feminist, Human Rights Activist, Social Science Researcher, Chevy Solis.
---
Recent News Highlights
MAC 2023 ANNUAL GENERAL MEETING

The Museums Association of the Caribbean will be holding its 2023 Annual General Meeting on Thursday, November 16th, 2023 from 10:00 am to 12:00 pm EST. The agenda for the AGM and relevant materials will be circulated to members ahead of the AGM.  Register for the AGM to join us on  Zoom.  Our AGM is an open…

Read more

: MAC 2023 ANNUAL GENERAL MEETING

CARIBBEAN CULTURAL NEWS AND RESOURCES

Compiled by Isabella Rivera News from Within the Region Vincentian cultural group honors outstanding educator, remarkable cultural ambassador (Caribbean Life, September 1, 2023) History, heritage and culture in Grenada – The business of museums (The New Today, July 22, 2023) The Bahamas Has a New Museum of Junkanoo (Caribbean Journal, July 7, 2023) Inside Barbados'…

Read more

: CARIBBEAN CULTURAL NEWS AND RESOURCES
---