Collecting Our Voices in the Caribbean Diaspora (COVID)
The Museum's Association of the Caribbean (MAC) and the special MAC COVID Collecting Committee, is thrilled to host an online exhibition, entitled Collecting Our Voices in the Caribbean Diaspora (COVID). 
The exhibition features work by artists from the English, French, Spanish and Dutch-speaking Caribbean, with representation from ten countries: The Bahamas, Cayman Islands, French Guiana, Guadeloupe, Guyana, Haiti, Jamaica, Martinique, Puerto Rico and Suriname.  
Responding to the pandemic and its impact on the creative sector, the project brings together voices from across the region to illuminate through creative expression how people in the Caribbean and its Diaspora are living and moving through this crisis.
The exhibition will stay online for eight months—through November 26th 2021—and will, over the course of its run, be screened at various partner institutions throughout the region to be announced.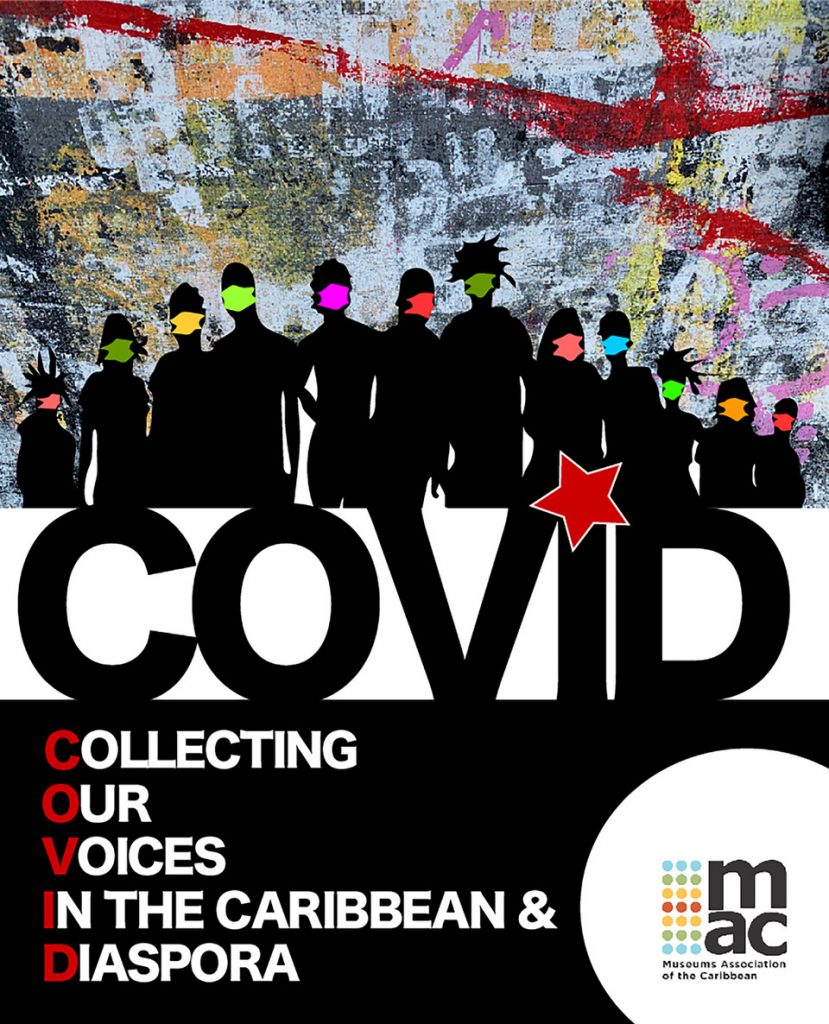 How to View the Exhibition
The online show is hosted on the MAC website through the digital gallery website Artsteps.
Your position within the virtual space is indicated on the "ground" by a green circle with a set of footprints inside it.
To move this circle and to navigate through the exhibition, use your keyboard arrow keys (up, right, down and left) or the keyboard letters (Q, W, E, A, S, D). 
You can also navigate with your mouse, by clicking to where you want to go. 
At the bottom left corner of the window, you can also see the exhibition's map (an icon that looks like a folding paper map; click on this and it expands into a a bird's eye view of the floorplan). Your position is indicated by a small blue dot. If you want to "jump" to a new spot inside the exhibition, just click to where you want to go and you will be "moved" through the space. 
You can interact with any photo, text or exhibit in order to view its title and description, as given by the work's creator. Just click on it and a window will pop up (if it is a person's portrait, you will get their bio; if it is a poem, you will heard the sound recording; if it is an artwork, you will see the artist's statement, etc. 
Enjoy!
The project is made possible with support from the Diaspora Vibe Cultural Arts Incubator, Fundacion 1408, the National Art Gallery of the Bahamas (NAGB), the National Gallery of the Cayman Islands, and Memorial ACTe.
The core MAC Collecting Covid Committee is composed of artists, curators, and museum professionals including: Amanda Coulson, Tasha Dougé, Rosie Gordon Wallace, and Koren Martin, with great support from colleagues Kara Bledsoe, John Cox, Kassie Edwards, Joanne Hyppolite, Romel Shearer, Natalie Urquhart.
Artwork: COVID: Collecting Our Voices in the Caribbean Diaspora, artwork by John Cox (Bahamas)
---