A Letter from Outgoing President Natalie Urquhart
As your outgoing President, I'd like to extend a sincere thanks to all MAC members for allowing me to represent this organization over the past three years, and for your support throughout this time.
I was honoured to have been elected to this position at our 2017 conference and AGM, which was the start of a period of growth and revitalization for our organization. It was at this conference that the Board created a new vision statement that sought to position MAC as the "go-to resource for and about Caribbean museums" and this goal has directed our work in the years since.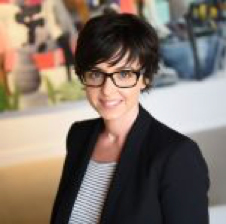 Growing our ability to serve museum professionals in multiple languages was a central part of this objective and one that was reflective of the pan-regional mission on which MAC was founded. Building on the work of our predecessors, in the past three years we have taken great strides in this area widening, and diversifying our membership across the region, as well as presenting workshops and training in four languages. A highlight of this work was the hosting of MAC's 30th anniversary conference and annual AGM at the Collectivité Territoriale de Martinique (CTM), our first bi-lingual conference in many years.

Importantly, MAC's Board now has strong representation from the Spanish, French and English-speaking Caribbean – with support from our Dutch colleagues – which brings a wider perspective to the organization, and which will help us to continue to expand of multi-lingual approach going forward.

Another outcome of this growth has been the expanded attendance at the past few MAC conferences in Miami (2017), Barbados (2018) and Martinique (2019), which averaged 100 participants per annum. These gatherings have not only provided professional development opportunities that are specific to the Caribbean museum and heritage sector, but they have formed invaluable networks for colleagues across the region and inspired new collaborative projects. One such example is the University of the West Indies, EU-LAC Foundation and MAC Museum Studies program project, which is under development. Another highpoint has been our ability to initiate new programs at these gathering like MAC's Travel Fellowships and MAC's Award Program to provide opportunities for the next generation of Caribbean museum professionals, and to recognize the tireless contributions of the established professionals, respectively.
None of it would have been possible without the support and commitment of my colleagues on the board and MAC's strategic partners. The team at the Smithsonian National Museum of African American History and Culture's Office of Strategic Partnerships led by Dr. Deborah Mack and Auntaneshia Staveloz have been unwavering in their commitment to MAC since 2017, both in terms of funding but also by serving on committees and sharing expertise. Conference partners, the University of the West Indies, Barbados Museum and Historical Society, the EU-LAC Museum Project, the EU-LAC Foundation, Collectivité Territoriale de Martinique, Fondation Clement, and the Association of African American Museums have all been outstanding in their support. In addition, partnerships with LORD Cultural Resources, the Commonwealth Association of Museums, ICOM Barbados, and the Association of Art Museum Curators had led to fruitful training, development and internship projects, both on location and online. Strengthened connections have also been established with UNESCO, ICOM, and ICOFOM, which resulted in MAC representing the Caribbean museum sector at several gatherings on museum policy and standards in 2019 and 2020, and more recently exploring the role of museums after the pandemic. These partnerships have afforded MAC the ability to produce continued quality programing, and they have been undertaken in the true spirit of collaboration – for which I will be forever grateful.

The most challenging year of my term has of course been this past one, with the global pandemic upending all of our lives and forcing us as museum professionals to rapidly rethink the way we engage with our audiences. Our survey on the status of museums in the Caribbean, carried out in April 2020, showed that over 90% of our institutions were closed, with 98% reporting event cancellations as far ahead as May 2021. While enormously challenging on both on a personal and professional level, the moment offered a paradigm shift for the our sector – hastened by COVID-19, but is also driven by the accelerating racial justice movement, as well as dialogues for the return or restitution of property, changing modalities of representation, widening access and inclusion. It forced us to rapidly rethink audience access to culture and education and to adopt new forms of digital programming and engagement tools – which has resulted in some remarkable work being carried out by MAC members and colleagues.

The crisis tested and strengthened MAC as an association and we were able to adapt quickly to create a digital support program for our sector, which included online resources, workshops and webinars. I will be forever grateful to our late MAC Secretariat Solenn Carriou for her tireless work revamping the website at this critical time. The COVID-19 Support Program, which was an outcome of our initial needs survey, brought together colleagues from across the Caribbean to share knowledge and best practice for the evolving situation, as well as providing much needed inspiration and camaraderie in the most difficult of moments. I would like to extend a very sincere thank you to all who contributed to this project and particularly to our subcommittee chairpersons Dr. Shani Roper (Jamaica) and Nyasha Warren (Panama), panel moderators Katarina Jacobson (Guadeloupe), Germaine Joseph (St Lucia), Arminda Franklin Ruiz (Aruba) and Sarah Hill (Canada), technician Javier Bailey (Jamaica) all of our guest speakers, along with the entire COVID Collecting Project Committee of Joanne Hyppolite, Rosie Gordon Wallace, Tasha Douge, Koren Martin (USA), Arminda Franken-Ruiz (Aruba), Amanda Coulson and John Cox (Bahamas).

As my term as president ends, I step down with confidence as I pass the torch to Joanne Hyppolite who has already played such a critical role in MAC's development from her position as Vice President. Her support and colleagueship over the past three years has been invaluable, as has that of my colleagues on the MAC Board and working committees. Thank you all.
Through Joanne's leadership, with support from our current MAC board which I will remain on for another year, I know MAC will continue to provide an invaluable network for our Caribbean museum community, helping us shape the future of our sector across diverse disciplines, languages and geographic barriers, and providing us the tools we need to navigate the ongoing challenges of 2021 and beyond.

Thank you.
Natalie Urquhart
Outgoing MAC President

______________________Française_____________________________________

Lettre de la Présidente sortante Natalie Urquhart

En tant que Présidente sortante, j'aimerais remercier sincèrement tous les membres de l'AMC de m'avoir permise de représenter cette organisation au cours des trois dernières années, et pour votre soutien tout au long de cette période.

J'ai été honorée d'avoir été élue à ce poste lors de notre conférence et de notre assemblée générale annuelle (AGA) de 2017. Ceci a marqué le début d'une période de croissance et de revitalisation pour notre organisation. C'est lors de cette conférence que le Conseil d'Administration a proposé une nouvelle vision qui visait à positionner l'AMC comme la « ressource incontournable pour et par les musées de la Caraïbe » et cet objectif a guidé notre travail au cours des années qui ont suivi.

Développer notre capacité à travailler avec les professionnels des musées dans plusieurs langues était un élément central de cet objectif, et reflétait la mission pan-régionale sur laquelle l'AMC a été fondée. En nous appuyant sur le travail de nos prédécesseurs, nous avons fait de grands progrès dans ce domaine au cours des trois dernières années en élargissant et en diversifiant la composition de nos membres dans toute la région, ainsi qu'en présentant des ateliers et des formations en quatre langues. L'un des points forts de ce travail a été l'organisation de la conférence du 30e anniversaire de l'AMC et de l'AGA à la Collectivité Territoriale de Martinique (CTM), notre première conférence bilingue depuis de nombreuses années.

Il est important de noter que le Conseil d'Administration de l'AMC compte désormais une forte représentation de la Caraïbe hispanophone, francophone et anglophone – avec le soutien de nos collègues néerlandophones – ce qui apporte une perspective plus large à l'organisation et ce qui nous aidera à continuer à mieux développer l'approche multilingue à l'avenir.

Un autre résultat de cette croissance a été la participation accrue aux dernières conférences de l'AMC à Miami (2017), à la Barbade (2018) et à la Martinique (2019), elle a atteint une moyenne de 100 participants chaque année. Ces rassemblements ont non seulement offert des possibilités de développement professionnel spécifiques au secteur des musées et du patrimoine de la Caraïbe, mais ils ont également permis de constituer des réseaux inestimables pour les collègues de toute la région et ont inspiré de nouveaux projets de collaboration. Un parfait exemple en est le projet du programme d'études muséales de l'Université des Indes Occidentales, de la Fondation UE-ALC et de l'AMC, qui est en cours d'élaboration. Un autre point fort a été notre capacité à lancer de nouveaux programmes lors de ces rassemblements, comme les bourses de voyage et le programme de récompenses de l'AMC, afin d'offrir des opportunités à la prochaine génération de professionnels des musées des Caraïbes, et de reconnaître les contributions infatigables des professionnels chevronnés.
Rien de tout cela n'aurait été possible sans le soutien et l'engagement de mes collègues du Conseil d'administration et des partenaires stratégiques de l'AMC. L'équipe du Bureau des partenariats stratégiques du Smithsonian National Museum of African American History and Culture, dirigée par le Dr Deborah Mack et Auntaneshia Staveloz, est restée fidèle à son engagement envers l'AMC depuis 2017, à la fois en termes de financement mais aussi en siégeant dans des comités et en partageant son expertise. Les partenaires de la conférence, l'Université des Indes Occidentales, le Musée et la Société Historique de la Barbade, le projet de musée de l'UE-ALC, la Fondation UE-ALC, la Collectivité territoriale de Martinique, la Fondation Clément et l'Association des Musées afro-américains ont tous apporté un soutien exceptionnel. De plus, les partenariats avec LORD Cultural Resources, l'Association des Musées du Commonwealth, ICOM Barbados et l'Association des Conservateurs de Musées d'art ont donné lieu à des projets fructueux de formation, de développement et de stages, tant en présentiel qu'en ligne. Des liens renforcés ont également été établis avec l'UNESCO, l'ICOM et l'ICOFOM, ce qui a permis à l'AMC de représenter le secteur des musées de la Caraïbe lors de plusieurs rassemblements sur la politique et les normes relatives aux musées en 2019 et 2020, et plus récemment d'explorer le rôle des musées après la pandémie. Ces partenariats ont permis à l'AMC de produire une programmation continue de qualité. Ils ont été toujours entrepris dans un véritable esprit de collaboration, ce dont je serai toujours fort reconnaissante.

L'année la plus difficile de mon mandat a bien sûr été celle qui vient de s'écouler, avec la pandémie mondiale qui bouleverse toute notre vie et nous oblige, en tant que professionnels des musées, à repenser rapidement la manière dont nous nous engageons auprès de nos publics. Notre enquête sur la situation des musées dans la Caraïbe, réalisée en avril 2020, a montré que plus de 90 % de nos institutions étaient fermées, 98 % d'entre elles signalant des annulations d'événements jusqu'en mai 2021. Bien qu'il s'agisse d'un énorme défi, tant sur le plan personnel que professionnel, ce moment a offert un changement de paradigme pour notre secteur – précipité par le COVID-19, mais aussi par l'accélération du mouvement pour la justice raciale, ainsi que par les dialogues pour le retour ou la restitution des biens, l'évolution des modalités de représentation, l'élargissement de l'accès et l'inclusion. Elle nous a obligés à repenser rapidement l'accès du public à la culture et à l'éducation et à adopter de nouvelles formes de programmation numérique et d'outils d'engagement – ce qui a permis aux membres et aux collègues de l'AMC de réaliser un travail remarquable.

La crise a mis à l'épreuve et renforcé l'AMC en tant qu'association et nous avons pu nous adapter rapidement pour créer un programme de soutien numérique pour notre secteur, qui comprenait des ressources en ligne, des ateliers et des webinaires. Je serai à jamais reconnaissante envers notre regrettée secrétaire administrative de l'AMC, Solenn Carriou, pour son travail inlassable de refonte du site Internet en cette période critique.

Le programme de soutien COVID-19, qui était un des résultats de notre enquête initiale sur les besoins, a rassemblé des collègues de toute la Caraïbe pour partager les connaissances et les meilleures pratiques en fonction de l'évolution de la situation, ainsi que pour fournir une source d'inspiration et de camaraderie bien nécessaire dans les moments les plus difficiles. Je tiens à remercier très sincèrement tous ceux qui ont contribué à ce projet et en particulier les présidents de nos sous-comités, le Dr. Shani Roper (Jamaïque) et Nyasha Warren (Panama), les modérateurs du panel Katarina Jacobson (Guadeloupe), Germaine Joseph (Sainte-Lucie), Arminda Franklin Ruiz (Aruba) et Sarah Hill (Canada), le technicien Javier Bailey (Jamaïque), tous nos conférenciers invités, ainsi que l'ensemble du comité du projet de recueil COVID composé de Joanne Hyppolite, Rosie Gordon Wallace, Tasha Douge, Koren Martin (USA), Arminda Franken-Ruiz (Aruba), Amanda Coulson et John Cox (Bahamas).

Alors que mon mandat de présidente se termine, je me retire avec confiance en passant le flambeau à Joanne Hyppolite qui a déjà joué un rôle essentiel dans le développement de l'AMC en tant que vice-présidente. Son soutien et sa collaboration au cours des trois dernières années ont été précieux, tout comme ceux de mes collègues au sein du Conseil d'administration et des comités de travail de l'AMC. Je vous remercie tous.

Grâce au leadership de Joanne et au soutien du Conseil d'Administration actuel de l'AMC, dont je ferai partie pendant un an encore, je sais que l'AMC continuera à alimenter ce réseau inestimable à la communauté des musées de la Caraïbe, en nous aidant à façonner l'avenir de notre secteur au-delà des diverses disciplines, langues et barrières géographiques, et en nous fournissant les outils dont nous avons besoin pour relever les défis de 2021 et des années à venir.

Merci.
Natalie Urquhart
Présidente sortante de l'AMC

____________________________Español________________________________

Carta de Natalie Urquhart, presidenta saliente

Como su presidenta saliente, me gustaría extender un sincero agradecimiento a todos los miembros de MAC por haberme dado la oportunidad de representar a esta organización durante los últimos tres años y por su apoyo durante todo este tiempo.

Tuve el gran honor de haber sido seleccionada para este puesto en nuestra conferencia y junta general anual del año 2017, que fue el comienzo de un período de crecimiento y revitalización para nuestra organización. Fue en esta conferencia que la Junta creó una nueva declaración de visión que buscaba posicionar a MAC como el «recurso de referencia para y sobre los museos del Caribe» y este objetivo ha dirigido nuestro trabajo en los años posteriores.

El incremento de nuestra capacidad para servir a los profesionales de los museos en varios idiomas fue una parte central de este objetivo y reflejó la misión panregional en la que se fundó MAC. Sobre la base del trabajo de nuestros predecesores, en los últimos tres años hemos dado grandes pasos en esta área ampliando y diversificando nuestra membresía en toda la región, además de presentar talleres y capacitaciones en cuatro idiomas. Un punto culminante de este trabajo fue la celebración de la conferencia del trigésimo aniversario de MAC y la AGM anual en la Colectividad Territorial de Martinica (CTM), nuestra primera conferencia bilingüe en muchos años.

Es importante destacar que la Junta Directiva de MAC cuenta ahora con una sólida representación del Caribe de habla hispana, francesa e inglesa, además del apoyo de nuestros colegas holandeses, lo que aporta una perspectiva más amplia a la organización y que nos ayudará a seguir expandiendo el enfoque multilingüe en el futuro.

Otro resultado de este crecimiento ha sido la mayor asistencia a las últimas conferencias MAC en Miami (2017), Barbados (2018) y Martinica (2019), que contaron con un promedio de 100 participantes por año. Estas reuniones no solamente han brindado oportunidades de desarrollo profesional que son específicas del sector de museos y patrimonio del Caribe, sino que han formado redes invaluables para colegas de toda la región e inspirado nuevos proyectos de colaboración. Un ejemplo de ello es el proyecto del programa de estudios de museos de la Universidad de las Indias Occidentales, la Fundación EU-LAC y MAC, que está en desarrollo. Otro punto culminante ha sido nuestra capacidad para iniciar nuevos programas a partir de estas reuniones, como las becas de viaje de MAC y el programa de premios de MAC, para ofrecer oportunidades a la próxima generación de profesionales de los museos del Caribe y reconocer las incansables contribuciones de los profesionales establecidos, respectivamente.
Nada de esto se hubiera podido lograr sin el apoyo y el compromiso de mis colegas en la junta y los socios estratégicos de MAC. El equipo de la Oficina de Alianzas Estratégicas del Museo Nacional Smithsonian de Historia y Cultura Afroamericana, liderado por la Dra. Deborah Mack y Auntaneshia Staveloz, ha sido inquebrantable en su compromiso con MAC desde el año 2017, tanto compartiendo conocimientos como en términos de financiamiento y participación en comités. Los socios de la conferencia, la Universidad de las Indias Occidentales, el Museo y la Sociedad Histórica de Barbados, el Proyecto del Museo EU-LAC, la Fundación EU-LAC, la Colectividad Territorial de Martinica, la Fundación Clement y la Asociación de Museos Afroamericanos han sido sobresalientes en su apoyo. Además, las asociaciones con LORD Cultural Resources, la Asociación de Museos del Commonwealth, ICOM Barbados y la Asociación de Curadores de Museos de Arte habían dado lugar a proyectos fructíferos de formación, desarrollo y pasantías, tanto en las instalaciones como en línea. También se han fortalecido las conexiones con la UNESCO, el ICOM y el ICOFOM, lo que resultó en que MAC representara al sector de museos del Caribe en varias reuniones sobre políticas y estándares de museos en los años 2019 y 2020, y más recientemente explorando el papel de los museos después de la pandemia. Estas asociaciones le han brindado a MAC la capacidad de producir una programación de calidad continua, y se han llevado a cabo con el verdadero espíritu de colaboración, por lo que estaré eternamente agradecida.

El año más desafiante de mi mandato ha sido, por supuesto, el pasado, con la pandemia global que ha trastornado todas nuestras vidas y nos ha obligado, como profesionales de los museos, a repensar rápidamente la manera en que nos relacionamos con nuestro público. Nuestra encuesta sobre el estado de los museos en el Caribe, realizada en abril del año 2020, mostró que más del 90% de nuestras instituciones estaban cerradas y el 98% informó cancelaciones de eventos hasta el mes de mayo de 2021. Si bien fue enormemente desafiante tanto a nivel personal como profesional, el momento ofreció un cambio de paradigma para nuestro sector, acelerado por la COVID-19, pero también impulsado por el movimiento acelerado de justicia racial, así como los diálogos para el regreso o restitución de propiedad, cambio de modalidades de representación, ampliación del acceso e inclusión. Nos obligó a repensar rápidamente el acceso de la audiencia a la cultura y la educación y a adoptar nuevos métodos de programación digital y herramientas de participación, lo que ha resultado en un trabajo notable llevado a cabo por miembros y colegas de MAC.

La crisis puso a prueba y fortaleció a MAC como asociación y pudimos adaptarnos rápidamente para crear un programa de soporte digital para nuestro sector, que incluía recursos en línea, talleres y seminarios web. Estaré eternamente agradecida con Solenn Carriou, Secretaría de MAC, por su incansable trabajo de renovación del sitio web en este momento crítico. El Programa de Apoyo COVID-19, que fue el resultado de nuestra encuesta inicial de necesidades, reunió a colegas de todo el Caribe para compartir conocimientos y mejores prácticas para la situación en evolución, además de brindar la inspiración y la camaradería que tanto necesitaban en los momentos más difíciles. Me gustaría extender un sincero agradecimiento a todos los que contribuyeron a este proyecto y, en particular, a los presidentes de nuestro subcomité Dr. Shani Roper (Jamaica) y Nyasha Warren (Panamá), moderadores del panel Katarina Jacobson (Guadalupe), Germaine Joseph (Santa Lucía), Arminda Franklin Ruiz (Aruba) y Sarah Hill (Canadá), al técnico Javier Bailey (Jamaica), a todos nuestros oradores invitados, junto con todo el Comité del Proyecto de Recolección de COVID de Joanne Hyppolite, Rosie Gordon Wallace, Tasha Douge, Koren Martin (EE. UU.), Arminda Franken-Ruiz (Aruba), Amanda Coulson y John Cox (Bahamas).

Al terminar mi mandato como presidenta, me retiro con confianza y le paso la antorcha a Joanne Hyppolite, quien ya ha desempeñado un papel fundamental en el desarrollo de MAC desde su posición como vicepresidenta. Su apoyo y compañerismo durante los últimos tres años ha sido invaluable, al igual que el de mis colegas en la Junta de MAC y los comités de trabajo. Muchísimas gracias a todos.

A través del liderazgo de Joanne, con el apoyo de nuestra junta actual de MAC, en la que permaneceré un año más, sé que MAC seguirá brindando una red invaluable para nuestra comunidad de museos del Caribe, ayudándonos a dar forma al futuro de nuestro sector en diversas disciplinas, idiomas y barreras geográficas, y brindándonos las herramientas que necesitamos para sobrellevar los desafíos actuales de 2021 y más allá.

Gracias.
Natalie Urquhart
Presidenta saliente de MAC






---