MAC's Member Museums
Member Profile – West Indian Museum, Panama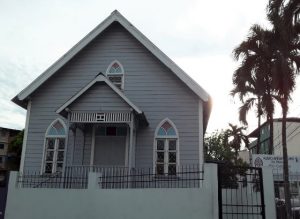 Our MAC Member Profile this quarter highlights the work of La Sociedad de Amigos del Museo Afroantillano de Panama (SAMAAP), the Society of Friends of the West Indian Museum of Panama.
The West Indian Museum of Panama, inaugurated on December 22, 1980, is located in the town of Calidonia. West Indian immigrants arrived to the isthmus from Barbados, Jamaica, Martinique and other Caribbean islands and contributed to the development of projects in the provinces of Bocas del Toro, Colon and Panama, especially the construction of the Panama Canal.
The museum is housed in a British colonial heritage building whose wooden structure with large windows on the sides with pointed arches and polychrome stained glass windows is thought to be inspired by parish churches of Barbados. Inside is a historical representation of the Afro-Anglo-Caribbean heritage that settled in Panama in the early twentieth century.
To learn more about the West Indian Museum of Panamá watch this short promotional video of the produced by the Ministry of Culture with the support of SAMAAP. Narration by Professor Melva Lowe Goodin, president of SAMAAP.
---
Member Museums Map
On the map below you will find all current members of MAC (in green) as well as past members of MAC (in purple).
This map is still being updated with more past MAC members.